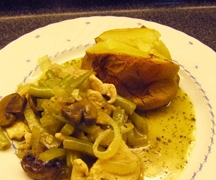 Oven 400 F, then 325 F

Serves 4

4 small baking potatoes

Wash the potatoes, slice through the skin with a knife. Place in the oven at 400 F. After about 30 minutes, turn down to 325 F when you put the chicken stew in the oven.

 

1 medium yellow onion

5 stalks celery

 

Chop the onion & celery to ½ inch size. Set aside.

12 medium white or Crimini mushrooms

 

Wash the mushrooms well in cold water. Trim the stems and cut into quarters. Set aside.

 

4 half chicken breasts, boneless, skinless

 

Cut the chicken crossways into ¼" thin slices.

2 cloves garlic

¼ cup olive oil

1 Tbsp Provence herbs or Italian herbs

½ can Swanson's Chicken broth

 

Mince the garlic. Add the oil, garlic and herbs to a Dutch oven or heavy roasting pan. On the stovetop, heat the pan to medium, then add the chicken. Sauté the chicken for 2-3 minutes, stirring often. Add the onion, celery & mushrooms. Add ½ can (1 cup) of chicken broth. Cover the pan and bake in the oven at 325 F for 40 minutes.

 

Fresh green beans

Prep the green beans and steam on stove top for about 20 minutes or to your liking. Turn off heat.

2 Tbsp flour

½ can Swanson's Chicken broth

Salt & pepper

Remove the stew from the oven. In a small drinking glass, pour ¼ cup of broth. Add the flour and blend with a fork until smooth. Add to the hot stew and quickly stir with a wooden spoon. The stew will thicken a bit. Salt & pepper to taste.

 

Serve the stew over the baked potato and green beans.

 
In England, baked potatoes are served ''in their jacket" which is the best part- crispy potato skin!