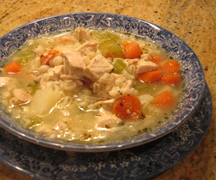 Serves 8

1 large sweet onion

6 stalks celery

2 tsp minced garlic

1 Tbsp Provence or Italian Herb mix

¼ cup olive oil

 

Chop the onion and celery into ½" bits. Add to a large pot with the herbs and oil. Sauté over medium heat for 5 minutes. Move most of the mixture into a small bowl and set aside, leaving ½ cup of the onion mixture in the pan.

 

4 half chicken breasts with bone and skin

3 cups water

 

 

Add the chicken and water to the pot. Cover and bring to a boil. Turn down to med-low and simmer for 45 minutes. Remove the chicken to a plate, cover with plastic wrap and set aside to cool. Save the broth in the pot.

 

2 cans (14 oz) Swansons chicken broth

2 cups chopped carrots

4 medium potatoes

1 tsp salt

¼ tsp pepper

 

Optional:

Any fresh or frozen veggies such as chopped green beans, broccoli, corn, peas

 

 

Barley option:

Cook separately one cup of pearl barley and three cups of water in a small pot. Bring to a boil, turn down to low and cook uncovered for 30-40 minutes until tender. Add to the soup just before serving.

Peel and chop the carrots and potatoes. Add canned broth and the veggies to the pot. Bring to a boil on med-high heat. Turn down to low heat, cover and simmer for 10 minutes.

Meanwhile, remove the skin and bones from the cooked chicken. Cut the chicken into 1" chunks. Add the chicken to the pot.

Add the onion & celery mixture from above. Salt and pepper.

At this point, you could refrigerate the soup overnight if you are making a day ahead.

Bring to a boil. Turn down to low heat and simmer for 10-15 minutes just until the potatoes & veggies are tender. Don't overcook.

Serve the soup as is, or over noodles or pasta. Don't add pasta to the pot because it does not hold up well for left-overs.

Use the left-overs to make Three Day Soup!
Our traditional Christmas eve dinner features this simple soup over Spaetzle.