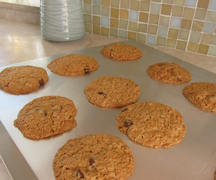 Oven 325 F

Yields 32 Cookies

1 cup butter

¾ cup sugar

¾ cup brown sugar

Beat well until fluffy.

2 eggs

2 tsp vanilla

Add and beat well.

2 ½ cups Gerber oatmeal cereal

1 cup oatmeal

1 tsp salt

1 tsp baking soda

Optional:

½ pkg Nestle chocolate chips

Mix well. The batter will appear dry. Use a 2 tablespoon size cookie scoop. Drop onto an ungreased cookie sheet. Flatten the ball to ½ inch high.

Bake 11-13 minutes at 325 F until light golden brown. They are still soft in the center. Remove from the oven and leave on the sheet for 5 minutes. Transfer to a cooling rack.

Store in a cookie tin or freeze. These cookies are delicate and slightly chewy. If you prefer a crisper cookie, add 3 T flour.
These cookies are high in iron from the fortified baby cereal. Each cookie provides 2.5 mg iron. A child's requirement is 13.5 mg/day.