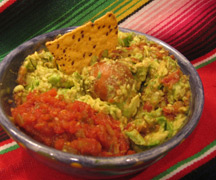 Serves  4

2 ripe avocados

½  lime

¼ tsp salt

¼ cup Salsa

 

Cut the avocado in half lengthwise, leaving the pit intact. Twist apart. Use a spoon to scoop out the avocado into a bowl. Leave the pit in the bowl, it will keep the avocado from turning brown. Cut the lime in half and squeeze half of the juice over the avocado. Salt. Mix in freshly made salsa.

Tortilla chips

For a special treat, warm the tortilla chips: place the chips on a cookie sheet and heat for 5 minutes in the oven at 300 F.
Finding a perfectly ripe avocado in the supermarket can be difficult. The avocado is ripe when slightly soft; squeeze it gently to test- it feels like squeezing a greenish banana. I prefer to buy the hard avocados 3-4 days before I need them and store at room temperature to ripen. To speed up the process, place them in a brown paper bag.