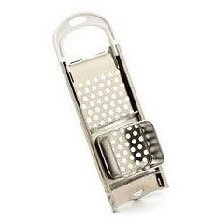 << Spaetzle Maker
 

Yields about 5 cups Spaetzle

2 cups flour

1 tsp salt

2 eggs

½ cup warm water

 

Combine all ingredients and beat with a spoon to form a thick batter.

Place at least 2 quarts of water in a large pot and bring to a hard boil. Lay the spaetzle maker horizontally over the pan, resting on the edges.  Fill the well half full with batter and move it back and forth.  Work quickly to run small batches of dough through the spaetzle maker directly into the boiling water. Stir the boiling noodles with a wooden spoon. Boil hard for about 5 minutes until done. To test for doneness, remove a large noodle and taste it. It should be almost dryish on the inside. Immediately drain the noodles into a colander and rinse with a little cold water. Pour the drained noodles back into the warm pot and serve immediately. 

 
While living in southern Germany, the Swabian "national noodle", spaetzle fast became our favorite local dish. Our German language tutor taught me the traditional way to scrape the noodles off a cutting board directly into the boiling water. Now, I usually use a spaetzle maker, which forces the soft dough through holes, forming noodles as it hits the water.