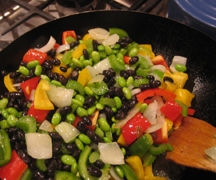 Serves 4-6

 

Before preparing the vegetables, start the rice cooking. It will be done just in time.

 

2 Tbsp soy sauce

1 tsp minced garlic

1 tsp onion powder

1 tsp cornstarch

¼ tsp ground pepper

¼ tsp cayenne pepper

2 Tbsp white wine

 

Mix in a small dish or glass measuring cup. Set aside.

1 green bell pepper

1 red bell pepper

1 yellow bell pepper

4 stalks celery

1 sweet yellow onion

 

 

 

Wash and chop the vegetables to ½" pieces.

Olive oil

 

 

 

 

 

 

 

 

 

 

 

 

 

 

 

Assemble the vegetables and sauce near the stove. Set the wok on the stove with high heat, or use a sauté pan with med-high heat. Pour in olive oil to coat the sides of the wok to ¼" in the bottom of the pan. Use a splatter screen when stir frying to avoid burns.

 

Carefully add the vegetables to the hot oil, protecting yourself with the screen. Stir with a long wooden spoon or wooden spatula. Stir fry for 3-5 minutes until the onion is tender and translucent around the edges.

 

2 cups shelled edamame, frozen

1 can black beans, drained and rinsed

¼ cup water

 

(Add more cayenne pepper if you like it spicy!)

Add the edamame and stirfry for 2 minutes. Add the beans to the wok and stir.

 

Pour in the sauce and continue to stirfry. Add ¼ cup water to the sauce dish and pour into the pan. Stir and cook for a minute or two until the sauce thickens. Add more water if the sauce is too thick.

 

Serve with rice.