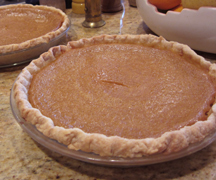 Oven 425 F – 350 F

Serves 8

1 (15 oz) can pumpkin

1 cup evaporated milk

½ cup heavy cream

¼ cup brown sugar

½ cup sugar

½ tsp salt

1 tsp cinnamon

½ tsp nutmeg

½ tsp ginger

1/8 tsp ground cloves

Blend well.

2 eggs

Beat in a small bowl and add to the mix. Blend on med-high for 2 minutes.

Pour into an unbaked single crust pie shell. Cover the edge of the crust with a long strip of foil. Bake at 425 F for 15 minutes. Turn down to 350 F for about 25 minutes. Remove the foil and continue to bake until the pumpkin is set. Insert a knife in the center; the pumpkin is done when the knife comes out clean. Cool to room temperature. Cover the pie tightly with wax paper and plastic wrap. Store leftovers in the refrigerator up to one week.

Whipped Cream

Serve with whipped cream.
My favorite breakfast is pumpkin pie on the day after Thanksgiving!