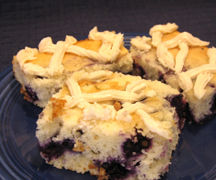 Oven 350 F

1 cup sugar

1/3 cup shortening

1 egg

Beat together.

1 cup milk

Add and beat.

2 cups flour

3 tsp baking powder

1 tsp salt

Sift together, add and beat.

3 cups fresh blueberries

or substitute frozen blueberries, thawed and drained

Grease and flour a 9×13 pan. Spread half of the batter in the pan. Sprinkle with half of the blueberries. Cover with remaining batter and sprinkle with blueberries. Bake at 350 F for 30-40 minutes. To test for doneness, lightly touch the center of the cake. It springs back when done. Cool and frost with Buttercream Frosting. I like to create a lattice of frosting with a decorating tip and bag.