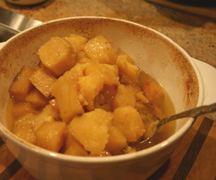 Oven 350 F

4-6 medium sweet potatoes

Peel the potatoes and chop into 2" pieces. Place them in a greased casserole dish or square cake pan.

 

½ cup butter (1 stick)

½ cup brown sugar

Melt the butter in the microwave, mix in the brown sugar and pour over the potatoes. Cover and bake at 350 for an hour or so.

 
Terie makes this dish in the crockpot with lots of butter!