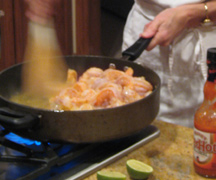 Serves 6-8

2 lb frozen raw shrimp

 

(Look for large, deveined or cleaned shrimp in the shell, 16-20 per pound)

 

Remove the frozen shrimp from the package and place in a bowl of cool water to thaw for 30 minutes. Peel the shrimp and place in a colander to drain. Leave the tails intact or remove if you prefer.

 

3 cloves garlic

¼ cup olive oil

4 Tbsp butter

1 Tbsp Frank's Red Hot sauce

¼ tsp cayenne pepper

1 tsp Provence or Italian herb Mix

½ tsp salt

Grated black pepper

 

 

Mince or finely chop the garlic.

Heat the oil, butter and garlic in a sauté pan or wok over medium heat. Add the seasonings. 

Carefully add the shrimp, protecting yourself with a splatter screen. Stir continuously with a wooden spoon and cook for 4-5 minutes, just until the shrimp becomes pinkish-white and opaque.

1 fresh lime

 

Remove from the heat and squeeze the lime juice over top.

For an appetizer, serve on a bed of crisp Romaine lettuce leaves.

For a main dish, serve on top of rice or pasta.
Thinking of Bing Crosby? No wonder… Christmas Eve dinner starts with this shrimp appetizer at our house.