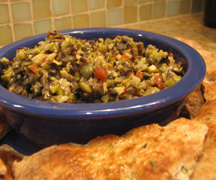 1 jar (12 oz) green olives stuffed with pimento

1 jar (8 oz) Kalamata olives, pitted

1 can (15 oz) black olives, pitted

1 jar (4 oz) tiny capers

2 cloves garlic

½ tsp salt

1 tsp Provence herbs or Italian herb mix

¼ cup olive oil

Pinch of crushed red pepper flakes (more if you like it spicy)

  

Drain the olives and capers well. Mince or finely chop the fresh garlic.

Blend everything together in a salsa chopper or blender using the pulse mode.  Don't over-blend; try for 1/8" bits.    

Serve with warm Herbed Flat Bread or garlic toast.