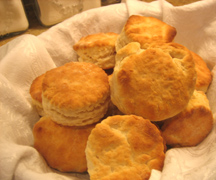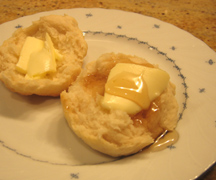 Oven 425 F

Yields 12 Biscuits

2 cups flour

4 tsp baking powder

1 tsp salt

Mix together in a medium mixing bowl.

6 Tbsp Crisco shortening

Cut the shortening into the flour with a pastry blender until the mixture is like tiny gravel.

 

1 cup milk

 

Add the milk all at once, and mix with a fork just until all is moistened. The batter should be very soft and sticky.

 

½ cup flour

Spread ½ cup of flour on the countertop in a 12" circle. Turn out the batter onto the flour. Sprinkle 2 Tbsp of flour on top.

  

Gently knead about 12 times, pulling from under the outer edge and folding in to the center to knead in the flour.

This is the critical point for fluffy biscuits- don't handle the dough too much and don't mix in too much flour or the biscuits will be tough.

When the dough is just stiff enough to hold its shape without sticking to your fingers, pat it down evenly to 1" thickness. Cut with a round biscuit cutter or just cut into wedges. Rub the cutter or knife in the flour between cuts. If you don't have a cutter, use a drinking glass.

Place on an ungreased cookie sheet.

Gather up the remnants of dough into a ball and pat down for a few more cuts. Use the last bit of dough to form the Funny Biscuit.

 Bake at 425 F for 10-12 minutes. Yum!

 
Biscuits were the staple food of my childhood. As she took the biscuits out of the oven, Mom would yell out, "Hales bales, I almost burnt the biscuits!" We always fought over who got the Funny Biscuit. If you want a real Southern treat, try the biscuits with sausage gravy.