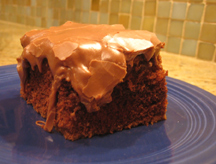 1/3 cup heavy cream

Pour the cream into a (2 cup) glass measuring cup or small bowl. Microwave on high for about 30 sec to just bring to a boil.

 

1 cup Nestle semi-sweet chocolate chips

1 tsp vanilla

Add the chocolate, stir and beat with a fork until smooth. Add vanilla. Let it sit for 20 minutes to cool.

 

2 – 3 cups Dominos powdered sugar

Transfer to a larger bowl if needed. Add 2 cups of powdered sugar and beat on medium speed with a mixer. Add additional sugar a bit at a time until the desired consistency is reached. Spread on the top of your cake. This is best suited for a flat cake because it is too soft to use on the sides of a layer cake. If you want to make a layer cake, let it run down the sides or frost the top & center layer with the fudge and use whipping cream on the sides.