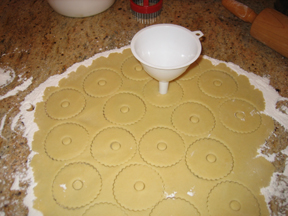 Oven: 375 F

1 ¾ cups Crisco

1 cup sugar

 

Beat well until fluffy.

2 egg yolks

1 whole egg

2 tsp vanilla

1 shot brandy

 

Separate the eggs and save the whites for later. Add and beat well.

4 cups flour, sifted

Mix in gently by hand. Wrap in wax paper and chill in the refrigerator for 30 minutes.

½ cup walnuts, ground fine

¼ cup sugar

To grind the walnuts, place them in a plastic bag and crush them with a rolling pin. Remove the larger pieces if any remain. Mix with the sugar and pour onto a plate.

2 egg whites

Flour

Cooking oil spray

Generously sprinkle the countertop with flour and roll out the dough with a rolling pin to about ¼" thickness. If the dough is too soft to roll and cut, roll out the dough between the two sheets of wax paper as follows: Sprinkle a 2' sheet of wax paper with flour; divide the dough in half and place it on the wax paper, pat it down to 1-2 inches thick. Sprinkle with more flour and cover with another sheet of wax paper. Gently roll on the top sheet with the rolling pin. Cut with a circle or wreath shape. Brush the cut-outs with egg white and turn them over into the plate of walnuts and sugar. Lightly spray or grease the cookie sheets. Place the cut-outs sugar side up on the pans.  Bake 8-10 minutes until golden. Cool.

Apricot or raspberry jam

Fill the cookies with jam. Store the cookies in a tin.
 

Granny and Pop Hehn were bakers in a German bakery in Philadelphia. Granny taught me how to bake these cookies one Christmas in her kitchen.