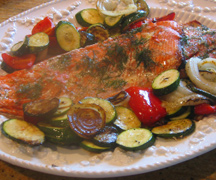 Preheat Grill

Serves 2

Cedar grilling plank

Place the board in the sink and cover with cool water to soak for an hour before grilling.

1 lb frozen salmon fillet

2-3 Tbsp olive oil

2 tsp dillweed

Salt and pepper

Leave the fish in it's plastic and thaw in the sink of cool water for 30 minutes. Remove the fish packaging and rinse with cold water. Place on the board, skin side down (if there is skin). Drizzle the fish with olive oil. Sprinkle with dillweed, salt and pepper. Cover loosely with foil. Grill over medium heat with the grill cover closed for 20-25 minutes.

To test for doneness, stick a fork in the center and give a twist. The fish is done when it flakes cleanly.

I suggest serving with grilled vegetables.
This cooks great over a campfire too- my favorite kind of roughing it!