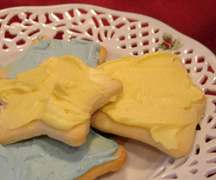 Oven 375 F
Yields: 8 dozen cookies
3 cups powdered sugar
2 cups (4 sticks) butter
2 eggs
2 tsp vanilla
1 tsp almond extract

 

Beat together on high speed.

1 cup flour
2 tsp baking powder
2 tsp cream of tartar

 

Sift together, add and mix.


4 cups flour

Add the rest of the flour and mix gently. 

 

1-2 cups additional flour for rolling

Sprinkle ¼ cup flour on the counter. Place half of the cookie dough, sprinkle with flour and knead a few times, sprinkling flour until dough is not sticky.  Dust the rolling pin with flour and roll out to about 3/16" thickness. Rub the cutters in flour and cut out the cookies. Gather up the scraps to re-roll. Place on a cool, lightly greased sheet. Bake 7-9 minutes until edges are light brown. 

 

Frosting:


¼ cup (1/2 stick) butter
4 cups Domino's powdered sugar
1 tsp vanilla
2 Tbsp milk

 

Beat together on high.
Additional powdered sugar and milk


Food coloring

Add milk or sugar as needed to spreading consistency. Separate into separate bowls and add 2 drops of food coloring to each bowl.Frost the cookies when they are cool. Be sure to leave a blue pony for Santa, that is his favorite cut-out!