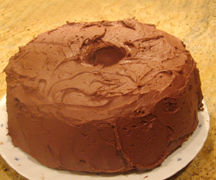 350 F

1 cup butter (2 sticks)

2 cups sugar

Soften the butter in the microwave for 20 seconds on the lowest setting- do not melt. Beat together with sugar.

 

4 eggs

Separate the egg yolks. Reserve the whites in a small mixing bowl. Add the yolks to the batter.

 

3 cups flour

3 tsp baking powder

1 tsp salt

 

Sift together. Add and mix.

1 cup milk

2 tsp vanilla

 

Add and mix. Beat on medium speed for 2 minutes.

Egg whites (from above)

In a seperate small bowl or glass measuring cup, beat the egg whites until stiff. Add to the batter and gently stir together until blended. Pour the batter into a tube cake pan or two round layer pans. Bake one hour at 350 F. Test for doneness with a toothpick. It may need another 5 minutes until the toothpick comes out clean.

 

Cool completely and frost with Chocolate Buttercream Frosting.

 
Granny Hehn made this cake for every birthday in the family. Her recipe card was titled "1,2,3,4 Cake". Note the measurements on the ingredients and you will see why!