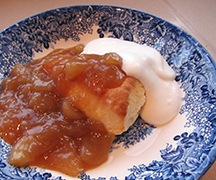 Yields 4 cups

6 large pears

Peel the pears, cut into quarters, remove and discard the core. Slice crossways into thin slices. Place in a saucepan.

½ cup water

Optional: Substitute ¼ cup of Armagnac or Cognac.*

Add to pears. Bring to a boil and cook over low heat just until the pears are tender. The time varies; ripe pears will take about 20 minutes, unripe pears may take up to an hour. Add more water if the pan goes dry.

½ cup sugar

½ tsp cinnamon

¼ tsp nutmeg

Dash salt

1 tsp vanilla

2 Tbsp butter

Turn off the heat. Add all and stir well.

1/2 cup lukewarm water

2 Tbsp cornstarch

Dissolve the cornstarch in water. Add to the pears while stirring briskly to avoid lumps. Turn on the heat, bring back to a boil, cook for a minute, stirring constantly.
*Although I say the liquor is optional, it really is the secret ingredient of this sauce. The alcohol will boil off as it cooks, leaving a wonderful flavor.
Warm pear sauce is delicious on pancakes.Warm pear sauce is delicious on pancakes or shortcake.