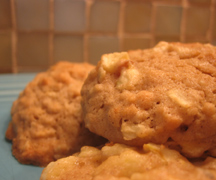 Oven 350 F

1 ¼ cups (2 ½ sticks) margarine

¾ cup sugar

¾ cup brown sugar

Beat well until fluffy.

2 eggs

2 tsp vanilla

 

Add and beat well.

2 ½ cups flour, sifted

2 cups quick oats

1 tsp salt

1 tsp baking soda

1 tsp cinnamon

½ tsp nutmeg

 

Add and keep mixing.

4 apples, Granny Smith or other tart variety

Peel and quarter the apples. Chop into ¼ " bits. Add to the cookie dough and mix well.

Lightly spray or grease the cookie sheets. Drop the dough by teaspoons. Bake 8-10 minutes at 350 F. Cool on a wire rack.
Jenny and her friends love the apple cookies served at UCSD, so she experimented with this variation of oatmeal cookies.