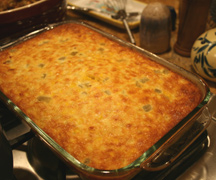 Oven 350 F

Serves 8

2 eggs

1 cup heavy cream

1 tsp salt

 

Beat until smooth.

4 cups frozen corn

1 (4 oz) can chopped green chilies, well drained

 

Thaw the corn to room temperature. Add corn and chilies to the cream mix.

 

 

¼ cup (1/2 stick) butter

Melt the butter in a shallow 9-10" casserole dish or square glass pan in the microwave.  Add the corn mixture. Bake at 350 F for 30-45 minutes until golden brown on top and set in the center.