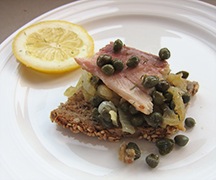 Serves 4

1 large sweet onion

2 T olive oil

Slice the onion into thin half rings. Sauté in a small skillet on med heat until tender.

1 lemon

Slice the lemon into round slices. Set aside.

2-3 small fillets smoked trout (~8 oz)

2 T tiny capers

1 tsp dill weed

Gently place the trout on the bed of onions in the skillet. Sprinkle with the capers and dill weed. Place the lemon slices on top. Cover, remove from heat and let stand for a few minutes to warm the trout.

6 thin slices of bread

Toast the bread lightly under the broiler and cut into fourths.

Keeping the layers intact, slide the trout from the skillet onto a serving plate. Arrange the bread and lemons. To serve, break the trout into bite size sections with a fork and pile on the bread with lots of onions and capers. Drizzle with the yogurt dill dressing if you like.