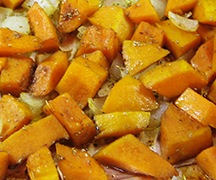 Oven 425 F

Serves 4

1 small pumpkin

Peel the pumpkin with a carrot peeler.

Take care while cutting the pumpkin. Place on a cutting board, insert the tip of a large chef's knife, and wedge it through. Scoop out the seeds and discard.

Cut into 1-2" chunks.

1 medium onion

4 cloves garlic

Chop the onion into 1" chunks. Peel and slice the garlic cloves.

Olive oil

Provence herbs or Italian herbs

Salt & Pepper

For easy clean-up, line a cookie sheet with foil. Drizzle with olive oil. Place the pumpkin, onion & garlic on the pan. Drizzle with more oil. Sprinkle with herbs.

Roast in a hot oven for about 30 minutes. Check for doneness with a fork. Salt & pepper.
Select a small "pie pumpkin". The large ones used for jack-o-lanterns are not as tasty.