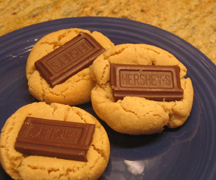 Oven 375 F

½ cup sugar

½ cup packed brown sugar

½ cup shortening

½ cup peanut butter

1 egg

Blend together.

1 ¼ cup flour

¾ tsp baking soda

½ tsp baking powder

¼ tsp salt

Stir in dry ingredients. Roll dough into ¾ inch balls and place on an ungreased cookie sheet.  Bake until set, but not hard, about 5-6 minutes.

 

5 Hershey chocolate  candy bars

Break the candy bars into the rectangular pieces. Press a rectangle "treasure" into each cookie while it is still warm.

 
Laura and I first made these cookies for Christmas 2007. The chocolate reminded us of little treasure chests stuck in the sand. They will definitely be part of our holiday traditions in the future!