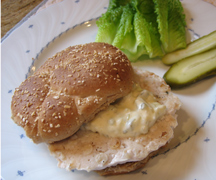 Preheat Grill

Serves 4

1 lb frozen white fish (any kind such as mahi-mahi, tilapia, halibut)

Place the wrapped fish in the sink and cover with cool water for 15 minutes to partially thaw. Grind the half-frozen fish with a meat grinder.

Form the patties on a sheet of wax paper and carefully turn over onto a greased grill pan.

Grill the burgers over indirect heat with the grill cover closed.

 

Indirect Grilling Method: Turn one burner off and leave the other burners on high. Place the grill pan over the burner which is turned off. Cook with the grill cover closed.

 

Grill for 10-15 minutes until the fish turns opaque white. Carefully flip the burgers with a spatula and continue to grill for 10 minutes.

 

Salt & pepper

Hamburger rolls

Dill pickles

 

Cayenne pepper (optional)

 

Salt and pepper the burgers. Serve with tartar sauce or your favorite hamburger garnishes.

 

If you want to spice it up, sprinkle on a little cayenne pepper!
We fell in love with fish burgers with the first bite at the Malliouhana beach bistro in Anguilla. I asked the chef for the recipe and he said it was just fish. I did not believe him at all, so I tried several versions with adding egg and other things, but none of them compared to "just fish"!