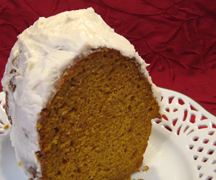 Oven 350 F

4 eggs
1 2/3 cup sugar
2/3 cup canola oil 

 

Beat together on high speed for a minute.

1 (15 oz) can pumpkin
2 cups flour
2 tsp baking powder
1 tsp baking soda
1 tsp salt
2 tsp cinnamon
½ tsp nutmeg
¼ cup dark rum (Myers) 

 

Add the rest and mix on slow speed until blended. Scrape the bowl and mix again until blended.

 

Generously grease and flour a tube pan or bundt pan. Pour the batter into the pan. Bake at 350 F for 30-35 minutes until done. Check for doneness with a toothpick.

Let the cake cool in the pan for 15 minutes. Loosen the edges with a plastic spatula. Turn over onto a plate and remove from pan.

 

¼ cup dark rum

Sprinkle the rum over the top of the warm cake. Cover with plastic wrap and refrigerate overnight.

 

Eggnog Frosting:


1/4 cup butter (1/2 stick)
2 cups Dominos powdered sugar

Soften the butter in the microwave 10 seconds on defrost mode. Don't let it melt. Blend butter and powdered sugar with a mixer until it forms a pebbly texture.

 

2 Tbsp dark rum
¼ cup eggnog  
Approx. 2 cups additional powdered sugar 

 

Add the rum and half of the eggnog. Blend well. Alternate adding powdered sugar and eggnog until the frosting reaches the right consistency to spread. Frost the cake and enjoy!