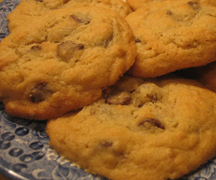 Oven: 375 F

1 ¼ cups margarine

¾ cup sugar

¾ cup brown sugar

Beat well until fluffy.

2 eggs

2 tsp vanilla

Add and beat well.

2 ½ cups flour, sifted

1 tsp salt

1 tsp baking soda

1 pkg Nestle chocolate chips

 

Mix in gently by hand. Lightly spray or grease the cookie sheets. Drop the batter by teaspoons. Don't handle the dough too much, it makes the cookies tough. Bake 8-10 minutes. Cool on a wire rack.
This is Granny Hehn's recipe. She made them bite size for a light and delicate version of the chocolate chip cookie. Jenny prefers to make them big, and they come out soft and cakey.