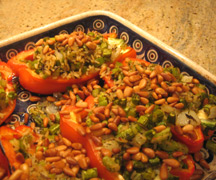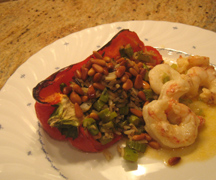 Serves 8

Oven 400 F

1 (6 oz) pkg Uncle Bens Original Long Grain & Wild Rice

Prepare as directed. Start the rice first and it will be ready when you need it.

4 large red bell peppers

3 Tbsp olive oil

 

 

 

Cut the peppers in half, cut through the stem, leaving the stem intact. Remove the seeds and membrane. Wash and drain on paper towels. Arrange the halves in a 9×13 baking dish. Drizzle with olive oil. Roll the peppers over in the oil to coat. Bake in the oven for about 10 minutes at 425 F. Cool slightly.

12 fresh mushrooms

1 large onion

4 stalks celery

2 cloves garlic

Wash and slice the mushrooms. Dice the onion and celery fine to ¼" bits. Mince or chop the garlic. Set aside.

½ cup pine nuts

Olive oil

 

Pour olive oil to cover a large sauté pan. Heat to medium high. Quickly fry the pine nuts, stirring constantly until golden brown. Remove with a slotted spoon to drain on paper towels. Set aside.

1 Tbsp dried herbs – Provence mix or Italian mix

 

Return the pan with oil to the stove. Add herbs, onions and celery. Cook until onions are translucent. Add mushrooms and garlic. Cook 2 minutes.

2 cups fresh chopped spinach or 1 small box frozen spinach, thawed

 

1 tsp Frank's Red Hot sauce

Salt & pepper

 

If desired:

I-2 cups chopped cooked chicken or turkey

or

1-2 cups raw shrimp, cleaned and deveined

 

Add additional oil if needed. Add spinach, cooked rice, hot sauce, salt & pepper. Stir and add more hot sauce to taste. 

 

Mix in meat or shrimp or both if desired. (This is a great way to use left-over turkey!)

 

Stuff the peppers with the rice mixture. Cover loosely with foil. Return to the oven and bake 30 minutes at 400 F. When they come out of the oven, sprinkle the stuffed red peppers with the pine nuts.

 
I created (or I should say imitated) this dish after many samplings of the signature stuffed peppers at the Red Peppers Café in Esher, England.