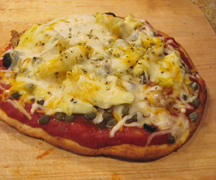 Oven 400 F

White or whole wheat flatbread or pita bread

Place the flatbread directly on the middle oven rack for 3-5 minutes or until the bottom is slightly stiff.

Bring out of the oven and turn over onto a plate, crispy side up to form your crust.

Spoon the sauce generously on the crust.

Any pizza toppings:

Fresh basil

Black olives

Sautéed mushrooms

Green or red bell peppers

Canned artichokes

Capers

Sautéed garlic

Fresh tomato slices

Pepperoni

Thin ham

Pineapple

Mozzarella cheese, grated

Colby Jack cheese, grated

Parmesan cheese

Dried oregano

Salt

 

Add your favorite toppings. Sprinkle with dried oregano and a dash of salt.

Spicy Turkey Topping

1 lb of lean ground turkey

3 Tbsp olive oil

½ tsp garlic powder

½ tsp cayenne pepper

½  tsp sage

¼ tsp oregano

¼  tsp salt

A grating of black pepper

This is a healthier alternative to sausage. Pour the oil in the skillet and heat. Add turkey, brown and crumble the turkey with a spatula over medium heat. Add the spices.
| | |
| --- | --- |
|   | Place back in the oven directly on the middle rack. Bake 5-8 minutes or until the cheese is bubbling. Remove with a large spatula and slide on a cutting board. Cut and slide onto the plate. Voila! |
The amazing thing about these pizzas is that they are so quick and easy, yet incredibly tasty! Perfect for a large family gathering or party- let each person build their own.