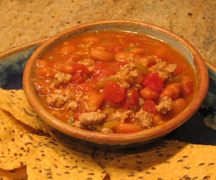 Serves 6

1 large sweet onion

2 Tbsp olive oil

1 lb ground turkey or beef

2 tsp minced garlic

½ tsp ground oregano

2 tsp chili powder

¼ tsp cayenne pepper

 

 

Chop the onion into ½" bits. Pour the olive oil into a large pot. Add the onion. Turn on med-high heat.  Add the meat, crumble and stir. Add the spices and stir frequently until the meat is cooked.

2 cans (15 oz) diced tomatoes

3 cans (4 oz) green chilies

 

Do not drain the tomatoes or chilies. Add to pot. Bring to a boil. Turn down to low heat.

4 cups cooked pinto beans or   2 cans (15 oz) pinto beans, drained

1 tsp yellow mustard

1 tsp salt

¼ tsp pepper

Add rest. Cover and simmer on low heat for 30 minutes. Taste the chili. Add more chili powder or cayenne pepper if you like it hot.

 

Serve with tortilla chips.