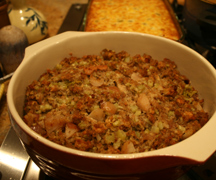 Oven 350 F

Serves 4-5

½ cup chopped onion

1 cup chopped celery

1 cup chopped apple

¼ cup (1/2 stick) butter

1 cup chicken broth

 

Chop onion fine into 1/4″ bits. Cut the apple into quarters and core the seeds, leave the skin. Chop the apple and celery into 1/2″ bits.  Place ingredients in a large glass bowl and microwave 2 minutes on high.

 

1 (8 oz) bag Pepperidge Farms Herb Seasoned Stuffing ~ 4 cups

 

Place the stuffing crumbs in a large bowl. Add the vegetable mixture.

1 egg

1 tsp sage

Add the egg and sage. Mix well until all of the stuffing is moist.

Place in a greased casserole dish. Cover with a lid or foil. Bake 40 minutes at 350 F.

 
This is Fred's favorite holiday dish; he calls it "Filling". Is that a Philadelphia thing?  I double this recipe for turkey dinners. You may substitute your own freshly made bread crumbs. To 4 cups of breadcrumbs, add 1 Tbsp Provence Herb mix and 1 tsp salt.