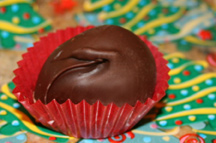 You will need 4 lbs of Domino's powdered sugar in total. Buy the 2 lb bags, or if you are measuring by the cup, use 4 cups of powdered sugar per pound.
 

Yields 10-12 dozen candies

(Seems like too many… until you taste them!)

 

2 cups butter (4 sticks)

2 pounds Domino's powdered sugar

 

Warm the butter to room temperature. (You may microwave on lowest power setting for 10-20 seconds, but take care not to melt.) Mix the butter on high speed until soft. Add half of the powdered sugar and mix on slow speed.  Add the second half of powdered sugar and continue to mix for 5-10 minutes until it forms a fluffy ball.

 

2 tsp vanilla

½ cup heavy cream

 

1½  pounds powdered sugar

 

 

Add the vanilla and mix on medium speed. Alternate small amounts of powdered sugar and cream, continuing to mix until all of the cream is added. The dough should be on the dry side. Keep adding powdered sugar until the dough comes clean from the side of the bowl.

1 – 2 cups of powdered sugar

Sprinkle the countertop with a 1 cup of powdered sugar, turn out the candy and knead in additional sugar with the heel of your hand until no longer sticky. Roll into balls, using additional sugar to keep the candy from sticking to your hands. Place on wax paper covered baking sheets and refrigerate several hours. At this point, you may place in an airtight container and refrigerate until ready to dip in chocolate.

 

5 packages Nestle      semi-sweet chocolate chips

Dip the chocolates in 3 or 4 small batches. For each batch, place 2" of chocolate chips in the top of a top of a double boiler with 3" of water in the lower pan. Melt the chocolate by boiling the water on high heat. If you don't have a double boiler, place a smaller sauce pan inside a larger one. Place 2 "of water in the bottom pan.

Once the chocolate is melted, turn the temperature to low, and work quickly or the chocolate may crystallize. Place one sugar ball in the chocolate and use a spoon to cover it with chocolate. Use two toothpicks to quickly remove the sugar bomb and place on wax paper.

After each batch, wash the pan and begin melting a fresh batch of chocolate chips.

Cool the tray of candy in the refrigerator until the chocolate sets up. Package in air-tight containers and refrigerate until you are ready to enjoy them.

 
My first experiment with this candy was shortly after Fred and I were married. I noticed that he would pick through a box of chocolates, looking for the vanilla creams. Little Freddie called my home made version "the bombs", and we have been making them every Christmas since.