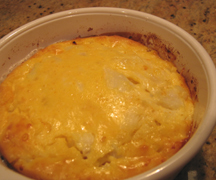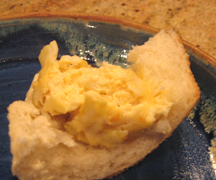 Oven 350 F

Serves 6-8

1 (8 oz) package cream cheese

2 cups (8 oz) grated sharp cheddar cheese

 

 

Combine in a glass bowl or large measuring cup. Microwave on high for one minute. Stir and microwave another minute. Stir until smooth.

¼ tsp Worcestershire sauce

½ tsp garlic powder

¼tsp cayenne pepper

 

Add spices and mix well. Start with ¼ tsp cayenne and add more if you like it spicy.

2 eggs

Add the eggs and beat well.

 

2 (5 ounce) cans lump crabmeat

Drain, rinse, and squeeze out water. Press lightly with your fingers to check for and remove any cartilage. Fold into the cheese mix.

 

2 Tbsp butter

Place the butter in a shallow casserole dish or pie plate. Melt the butter in the microwave and cover the bottom of the dish. Pour in the crab mixture. Bake at 350 F uncovered for 30 minutes or until the center is set.

 

French Bread

Warm the bread in the oven at 350 F for 5 minutes. Cut into 1 " slices. Remove and discard the soft bread and cut the crust into 2" strips. Spoon the soufflé onto the crusts.

 
Silly name, but that is the best description I can come up with! Whatever you call it, this is my favorite appetizer!