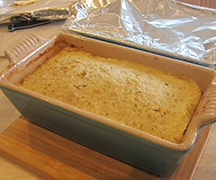 Oven 350 F

Serves 6

White bakery bread

(no preservatives)

Allow the bread to dry out on the counter for a few hours. Process into fine crumbs in a blender or food processor. My chopper attachment on the stick blender works best. Freeze any excess crumbs in 1 ½ cup portions for future use.

1 lb ground extra-lean turkey

1 ½ cups bread crumbs (above)

1 medium onion, chopped

2-3 eggs

½ cup milk

2 tsp Provence mix herbs or Italian mix

¼ tsp black pepper

If the turkey is extra lean (97%-99%) use 3 eggs. If the turkey is lean (~93%), use 2 eggs.

Mix all ingredients in a medium mixing bowl.

3 Tbsp Olive oil

Drizzle the olive oil in the bottom and sides of a loaf pan, spoon in the turkey mixture and press firmly.

If you don't have a loaf pan, use a small baking dish. Spoon the turkey mixture into the center of the dish, and press into a firm loaf in the center of the pan.

Cover with foil. Bake at 350 F for one hour.
Did you know that turkey is a Super Food? It is really good for you! If you have any leftovers, use like meatballs with spaghetti or try the Meatloaf Hash or Emma's Goulash.