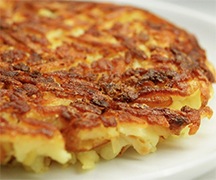 Oven 450 F

Serves 6-8

6 medium potatoes

Par-boil potatoes for 5 minutes to loosen the skin. Grate and discard the skin.

2 eggs

½ cup chopped onion

3 T flour

1 tsp salt

¼ cup melted butter

Mix together with the shredded potatoes.

If desired:

Ham, bacon, sausage

Mushrooms

Cheese

Broccoli, asparagus

Chili peppers

The classic plain potato Rösti is delicious as a side dish, but you can add any finely chopped ingredients to the mix, and make it the main course.

Olive oil

Cover the bottom of a baking dish (jelly roll pan) with a generous amount of oil. Spread the potato mixture and press out thin. Bake 30 minutes at 450F until crisp.
Cousin Otto Heigold made authentic Swiss Rösti for us when he visited us in England. Lekker!